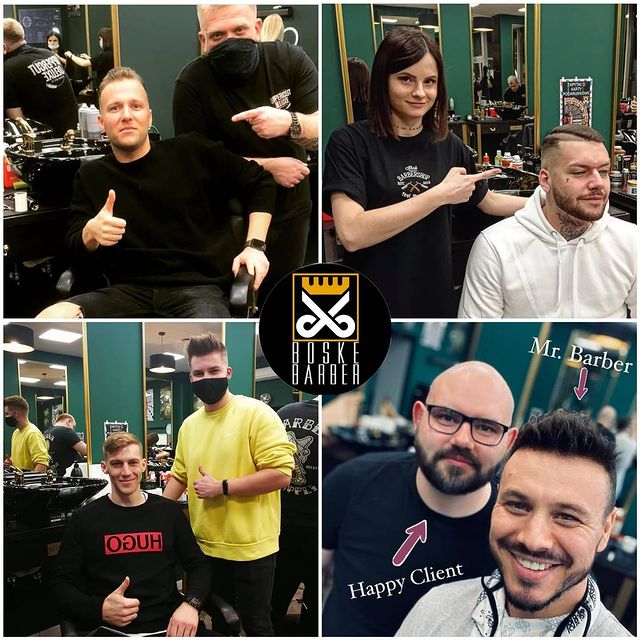 If you need a very good men's hairdresser from Krakow, we invite you to use our services! Boske Barber consists of a team of talented barbers with high professional competences who use their vast experience to stylize clients' hairstyles on a daily basis. We offer you a haircut and hair care in line with current trends, thanks to which you will look fresh and attractive. Check available dates and book a visit to the salon today!
Professional men's haircut in Krakow
Do you want to change your appearance and increase your self-confidence? Choose a men's haircut in our salon! During your visit to Boske Barber, you will be in the hands of a competent barber who, based on his experience, will choose a hairstyle that suits your type of beauty. A good hairdresser will help you find your individual style and tell you what cosmetics are worth using for effective hair care. You have at your disposal a wide range of services and special packages thanks to which you will save.
We have extensive experience in men's haircuts in accordance with professional barber techniques. We can handle any challenge, so you can safely entrust us with your hairstyle. In our work, we use the best cosmetics and barber tools from well-established brands on the market. At Boske Barber, customer satisfaction is always a priority, so you will definitely be satisfied with the styling we propose.
Choose the best men's hairdresser in Krakow
Currently, men are more and more interested in their appearance, which is best evidenced by the high popularity of barbers, also visible in Poland. Our salon is a response to the needs of customers who are interested in men's haircut services in Krakow. At Boske Barber, we deal not only with standard hair shortening, but also styling them according to your individual aesthetic needs. The range of services also includes gray removal, recommended especially to men who want to look younger.
You can now make an instant online booking and make an appointment for a men's haircut with a hairdresser of your choice at a convenient time. We offer you good prices for styling hairstyles and a large selection of additional services, tailored to the needs of demanding customers. In the salon we also deal with beard care and trimming. This option comes in an attractive package along with a haircut, so if you are a bearded man, you should take advantage of it.